Serving Naples best pizza and world famous steak subs for 50 years!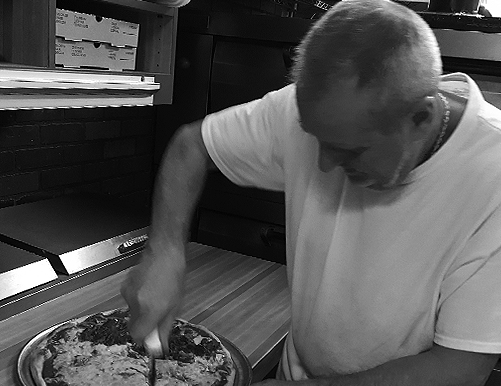 Welcome to Luigi's Pizza
Meet Carlo, The Real Luigi!
Carlo and his wife Kelly have been making pizzas and other delicious Italian food for more than fifty years. Prior to opening Luigi's Pizza, Carlo owned Carlo's pizza in the Park Shore Plaza in Downtown Naples, and at one point all of his brothers had similar establishments in Naples and Bonita.
Carlo puts his heart in all the food he makes and his customers come back time and again for Naples' Best Pizza and his mouth watering World Famous Steak Subs.
Along with those two favorites, Carlo makes authentic lasagna, spaghetti, and home made sausage and meat balls.
March Madness Pizza Challenge: Collier County's champ is crowned
Si Mendoza
August 19, 2020.
One of the old school pizzerias of Naples. Freshly cooked and great portions so bring your appetite. Really cool and nostalgic restaurant. Highly recommend dining, great service. Support local, an original owner and family business.
Taylor Brewer
August 4, 2020.
Good prices and great food! I've been going here since I was a kid and literally can't remember a bad experience. The staff make you feel at home every time you walk in. Love you Kelly!
Miami Dolphins
July 25, 2020.
Food has always been good along with the service
BlackSunshine
July 22, 2020.
Kelly was nice and the food was good!
Cindy Balsamo
July 12, 2020.
I ordered a large pizza. It was baked perfect. The toppings were just what I ask for. The sauce was great and was more than you get at alot of other places. It was done on time and the staff was very friendly.
Cait Fernandez
July 11, 2020.
Best pizza for miles around! Our fave is the pepperoni!
Luigi's World Famous Steak and Cheese
Served with thin sliced USDA Prime Rib and cooked with our special spices, topped with fresh melted Mozzarella cheese covering fresh veggies (onions, green pepper, and mushrooms) if you desire!
The Godfather Sub
Fine Italian meats; Proscuitto, Cappicolla, Salami, Ham, Mortadella and fresh?Provolone Cheese piled on a fresh baked sub roll with cold fresh locally sourced veggies make this sub a Traditional Favorite. Bring your appetite for this sub, it's big. Served cold or hot, it's delicious!
Pizza Bianco
White sauceless pizza with EVO, fresh Mozzerella and Ricotta Cheeses, and a choice of toppings such as mushrooms, Italian Sausage, Homemade Meatball, fresh Basil Leaves for some suggestions.
Cheese Only
Medium 14"....$17.50
Large 16".........$19.00
Sicilian 12".....$19.40
Sicilian 16".....$26.50
All Sicilians 40 Minute
Bake Time
1 Extra Item
Medium 14"....$20.00
Large 16".........$21.50
Sicilian 12".....$21.45
Sicilian 16".....$28.50
2 Extra Items
Medium 14"...$21.50
Large 16".........$23.00
Sicilian 12".....$22.90
Sicilian 16".....$31.50
3 Extra Items
Medium 14"....$23.00
Large 16".........$24.50
Sicilian 12".....$24.15
Sicilian 16".....$33.50
4 Extra Items
Medium 14"....$24.50
Large 16".........$26.00
Sicilian 12".....$24.40
Sicilian 16".....$35.50
Luigi's Special
Medium 14″ ………………$24.50
Large 16″ ………………….$26.50
(Mushroom, Green Pepper, Onion, Sausage, Pepperoni)
Pizza Bianco
Medium 14″ ………………$21.10
Large 16″ ………………….$22.10
(Ricotta optional, & Mozzarella Cheese, Fresh Garlic & Olive Oil)
Stromboli
Piece……………………..$8.00
Whole ……………………$32.50
Individuall Cheese Slice
$2.75 Extra Item – .25¢
Hawaiian
Medium 14″ ………………$21.00
Large 16″ …………………..$23.00
(Ham & Pinapple)
Extra Items Available $1.50
Extra Cheese • Ham
Sausage • Meatball
Pepperoni • Hot Peppers
Bacon • Pineapple
Onion • Anchovies
Black Olive • Mushroom
Green Pepper
All Weekly Lunch Specials Served With a Medium Fountain Soda or Draft Beer. Tax and gratuity not included.
Hot Subs
Extra Item $ .40
Hot and Cold Subs
Extra Item $ .40
Alls subs below come with lettuce, tomatoes, onions,
pickles, hot peppers, oil & vinegar, mayonnaise,
mustard upon request.
Luigi's Famous Steak Subs and Steak Salads
There's no bigger steak sub around!
Extra Item $ .40 • Extra Meat $.1.00
★★★Italian Steak Salad★★★
with Garlic bread
Spaghetti Dishes
Served Monday – Saturday
All Dinners Served with Garlic Bread
Extra Piece Garlic Bread $1.50 each
Side Dish
Link Sausage $2.75 each
Meatballs $1.25 each
★★★Beverages★★★
First fountain soda or tea refill FREE second $1
Beer & Wine • Draft, Carafes Cans & Bottles
Bud………………………………………….$4.00
Coors………………………………………$4.00
Miller………………………………………$4.00
Corona…………………………………….$4.75
Heineken……………………………….$4.75
Sam Adams……………………………$4.75
Yuengling………………………………$4.75
Modelo Draft………………………..$4.00
Michelob Ultra Draft…………..$4.00
48oz Pitcher………………………..$10.00
60ozPitcher………………………..$12.00
Wine Glass…………………………….$6.00
Wine Bottle ………………………….$6.00
Wine ½ Carafe……………………$13.00
Wine Full Carafe ……………….$16.00
Soda 12oz Can …………………… $2.00
Fountain 16oz……………………. $2.50
Fountain 24oz…………………… $3.75
Iced Tea 16oz…………………….. $2.00
Iced Tea 24oz……………………. $2.75
Gatorade16oz ………………….. $2.00
Bottled Water…………………… $1.00
2 Liter Bottles…………………….$3.75
people love coming to Luigi's – for the food and the family!
see what they say at tripadvisor, Yelp and Google!
I've visited Luigi's for close to 30 years and always have a great meal. Carlos and Kelly always greet you with a smile and treat you like family. Their food is always top drawer. I can call in and order my food and its ready in just a few minutes, fresh and piping hot. Luigi's Italian sub out of the oven is my favorite.
Whitney H.
April 2, 2019
Very good New York style thin crust. Just stopped in by chance while waiting for my car windows to be tinted. Had a couple of slices with a generous amount of pepperoni. I will definitely be back!
Denis J
April 2, 2018
The best pizza in Naples. Crust was excellent and the toppings are super fresh. The owners are on site and are super friendly people. Would definitely come here again!
Geoffrey Flint
April 2, 2022
Luigi's Pizza
Naples, Florida
☏   2397756669
2331 Tamiami Trail E, Naples, FL 34112

Delivery through Dine Home Delivery:
☏   239-963-4446
Come by for TAKE-OUT and Delivery by Dine Home Delivery is available Lunch: 11 am – 1:30 pm, weekdays and Dinner Tues-Sat 4pm to 7:30pm  .
Call Dine Home Delivery before 1:30 or 7:30pm to ensure you get your order in before they stop delivery.
Hours:
Friday: 11AM to 8PM
Saturday: 11AM to 8PM
Sunday: Closed
Monday: 11AM to 2PM
Tuesday: 11AM to 8PM
Wednesday: to 11AM to 8PM
Thursday: 11AM to 8PM
We are not responsible for any 3rd party delivery services pricing or delivery times.